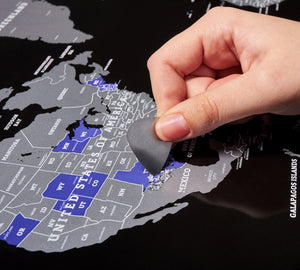 QUALITY IS NOT AN ACT, IT`S A HABIT
We have been manufacturing best scratch off maps for European customers for more than 7 years. All this time we have been gathering a valuable experience that helped us to implement the best printinting techniques in Divalis scratchable world maps. All materials used are high-grade, safe and eco-friendly. Are you searching for premium gift, home decor solution or travel tracking poster? You`ve found the best one!
TRY WITHOUT RISKS!
1) 5.0 Amazon.com rating ( 42 reviews currently ) and thousands of satisfied customers in Europe, USA and worldwide; 2) several times Divalis scratchable world maps were an Amazon`s choice; 3) extended guarantee - 45-Days money back if you are not satisfied with the scratch off map - RETURNS ACCEPTED. Buy large scratch off map today and get FREE SHIPPING(for US orders)! Attention: after we have entered the market of several new European countries we are selling out fast, that`s why our offer will be actual a few days only! Click ``ADD TO CART `` and get your own travel world map now!
Testimonials
I like this map. Always wanted to have one. The size is perfect and the quality of the map paper feels great. The pleasant surprise was to get the whole bunch of accessories - the map is ready to use! If you are looking for the gift for somebody who likes to travel this map will be a good one.

Rebecca J.
So far I love it! Scratching off places I have been is so fun! I also got this for my family to join in on this fun! We are all traveling a lot now with our jobs so now we can keep track of where we have been. Will be great to hang on my wall!

Jim Walters
This map is so cool - My dad travels the world for work and is really excited to spend some time scratching off a good chunk of countries. Packaging was great as well and came with some great accessories to help you relive your experiences,

Brandon
Awesome and exciting product! Haven't had the chance to use it yet as my boyfriend and I have already been to a few places prior to us dating, so we intend to use this to start marking our travels together!

Jessica S.
This map is amazing! I have traveled a lot and thought that may be it would be great to have around to keep track of how many places I have went. This was my gift to self for my birthday. I am getting it framed as we speak. Cant wait to put it up on my wall.

Sarah P.